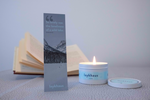 Transparency is very important for us and our customers. We want to demonstrate and be clear about the following issues.
Supply chain and production
Our products are sourced locally first, which means that as we grow we will always choose to work with local and regional suppliers. We define local as within 100km of Laykhaus HQ, North Vancouver, BC and regional as North America.
Containers - Our containers are sourced regionally and are circular use, as well as being made from recyclable metals. When it is safe to do so we will implement a refill program to divert waste from landfill.
Wax
Our Soy Wax manufacturers comply with our high standards for sustainability and you can review their 2020 Annual report here as well as a commitment to social responsibility as available in their code of conduct 
Product labelling 
All of our printing is done locally.
Our eco-friendly stickers are Greenguard Gold Certified due to its sticker stock, matte coating, and inks used in production. This certification means that each sticker meets rigorous chemical emissions standards and helps reduce indoor air pollution, making it acceptable for sensitive indoor environments.
We are working to remove all plastic wrap from our products that get delivered and will report when this is successfully implemented. 
Packaging
Boxes - We choose to use 100% recyclable packaging which is locally sourced. 
Tape - Custom packaging Tape is sourced regionally and is 100% recyclable eco safe ink, made 100% from paper contains no plastics.
Void Fill - Inside our packaging we use kraft shredded paper or biodegradable packing peanuts for larger items.
User Data
We respect your data and only store information for the purposes of completing orders and providing you with up to date information on our products. 
There is an important discussion at this moment in time around how businesses should reach customers and standard marketing practices are aggressive. 
We believe in a different approach and know that Laykhaus customers are not just data sets, but real people. We want to reach real people through meaningful engagements, not through cyber stalking. 
Our marketing efforts will reflect this
For example: 
We will promote our business through social media. 
We won't show you a product advert 10,000 times, because you viewed one of our products once.
The data we do store complies with the laws provincially and federally and reflects how we want to be treated as individuals ourselves. 
5% Promise
Our 5% promise is in full swing, with 5% of all sales diverted to marine eco-system programs. Our partnerships include: Living Lakes Canada and BC Parks Foundation.
Stockists
We are committed to high supply chain standards and ensure that our stockists are reputable businesses who share our common values.
We always seek feedback from our community, please do get in touch if you have any further questions.