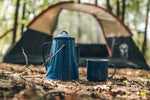 There's always time for a coffee, we love a good brew by the campfire but while we are in civilization we will be sure to frequent the north shores coffee houses. Although we can't enjoy all the ambiances at present we still love to support our local community business and there are so many to support. Here is our 1st edition of coffee shops worth stopping at to pick up a coffee and treats.
Nemesis Coffee - Polygon Art Gallery, Lower Lonsdale
Coffee meets art meets music. There is rarely a better combo for a pit stop to refuel both body and soul. We love this place and for those heading out on a day trip to the shipyards district we recommend stopping in here. Conveniently located next to the polygon art gallery, it is certainly worth a look in to see some great exhibitions by local artists.
https://www.nemesis.coffee/polygon
Bjorn Bar Bakery, Edgemont
For those who are on route up to see capilano dam, you can take a short diversion to edgemont village which is taken straight from a hallmark movie. Located on the main street at the southern end, you can expect a line up on a weekend but for a beautiful coffee and a pastry you can't go far wrong. Take a walk around the village and visit the local artisan shops as a lovely day out followed up by a trail hike up at Capilano dam.
Arm's Reach - Deep cove.
Ok so this is not a coffee shop per se, but it is a fantastic spot for a cup with a view. Deep cove is well known for its coffee offerings but for those looking for a bite to eat, a nice view head to Arm's Reach. As a plus on mondays they have Dr Bonnie Henry day, with her similkameen wines at 50%  off. 
Deep cove is a really cute place to go and escape the city feel. The highlight for us is sitting by the water  listening to the boats trundle in and out and to see the kayakers heading up the Indian arm. One day we want to head up to Iron bay for an overnight kayak trip.
https://www.armsreachbistro.com/