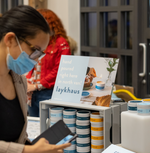 (Jack, Co Founder Laykhaus)
This august our team has been out in North Vancouver at The Shipyards Night Market. The indoor artisan market has lots of amazing vendors and locally crafted goods and we have been having lots of fun meeting customers in person, and making new friends along the way. There is a real community of people who create wonderful goods and having the chance to see this in real life is very enriching. The live music spills in from the outdoor stage and it gives us energy!
Our mini's have been incredibly popular with the crowds looking for a little fragrance hit on the weekend! Fun fact even though our 2oz travel candles are small they last for a mighty 8-10hours. One lady even asked for 3 Mini Alpine meadows candles in her pack of 4!
We will be at The Shipyards Night Markets 5-10pm on the following dates:
Aug 27 
Sep 3
Sep 10
Sep 17