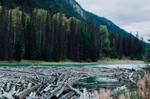 When the world gets heavy, we find ourselves looking for some calm. A need to drift, to lose ourselves in the outdoors. The clean air, the trees, the wildflowers all take us to a softer place. 
We always find ourselves on a trail at the lake. Having the room and space our lives to connect with the world with live in is for us the essence of life.
Creating environments, with the environment in mind. 
As you light one of our signature candles, imagine closing your eyes, hearing the water lapping at the shore line. The water stretches out in front of you as far as the eye can see. The soft smell of the pine trees cascading down the mountain sides around you. After a while the sun is setting and soon you are getting ready for hot chocolate by the fire, and sharing stories in the warm nights glow. Relaxed and feeling fresh in the cool air, you look up to be reminded of nature's beauty, with millions of stars glistening in the cloudless skies. You put out the fire and head to bed, feeling full of positive energy.
Everything we do at Laykhaus is to share the experiences of the lake with you.
Explore the calming scents of our BC collection.
L + J