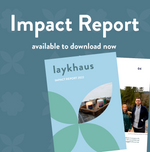 This world water day we are celebrating our first birthday! We have been working throughout the year with amazing organizations and individuals to understand how we can provide a big impact as a small business. We are proud to present our first year impact report which showcases how we are making an impact through our 5% promise. 
You can download the report here
World water day is a great opportunity to support local and global charities who are working to protect these critical habitats. Follow us on instagram and facebook for more information on our 5% program.
Thank you to everyone who continues to help us create environments.
Lucy + Jack